Cheap 45p Call 0904 007 0998 Exceptional Clairvoyant Readers
(Call cost 45p per minute plus network access charges apply)
Cheapest Best UK Clairvoyants Readings
Our Clairvoyants are warm and compassionate people who have an amazing ability to see things connecting through their spiritual ability. A reading with a Clairvoyant can be very helpful because Clairvoyants can see images of people, places, objects and events through their minds eye and in turn can tell you exactly what the future holds. We strongly believe in giving every one the chance to speak to an experienced Clairvoyant and that is why we charge from 45p per minute for our in depth calls. If you have unanswered questions or you want to see what the future holds for you then a call with a professional Clairvoyant may be for you. All of our Clairvoyants are UK based and we have readers available 24 hours a day who are ready to help you in any way that they can.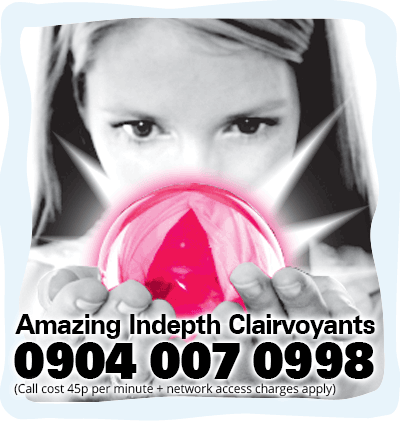 Our Clairvoyants have an amazing gift whereby they can see through their third eye into the future, they can help you with your love and relationship questions, career, finance, family and of course wealth. Take the worry out of your anxiety and allow our Clairvoyants to show you what they can see with their exceptional gift. Receive outstanding results every time with our Clairvoyants today, allow our readers to guide you into your future and let you see a positive way for you to move forward. Our Clairvoyants are non judgemental, calm and very easy to talk to and they take great pride in giving you a positive, honest and astonishing reading. Our readers connect through their spiritual vibrations so it is always best to remain calm and positive throughout your reading. There are many Clairvoyants on our services that are waiting in the privacy of their own homes ready to give you a dedicated reading today.
Cheap 45p Call 0904 007 0998 Exceptional Clairvoyant Readers
(Call cost 45p per minute plus network access charges apply)
5 Star UK Psychic Text Answer Service
Text Your Question To An Expert Reader Below : Receive Indepth Answers
Ruth
Psychic Tarot
07441 910 197
North
I am a gifted and natural tarot and psychic reader with over 10 years worth of experience, reading professionally for people from all over the world.
Peter
Psychic Clairvoyant
07441 910 383
London
I am a Clairvoyant Psychic. I am available to offer you insight into your present, past and future with a gift that has been mine since a very young age.