Cheap 45p Call 0904 007 0998
Extensive Fortune Telling Life Readings
(Call cost 45p per minute plus network access charges apply)
Cheapest Best UK Fortune Telling Psychics
Welcome to our team of caring fortune telling team with their experience which has been past down in generations and their total commitment in giving the most comprehensive fortune telling readings which have become so very popular to so many callers across the UK and many other continents throughout the world.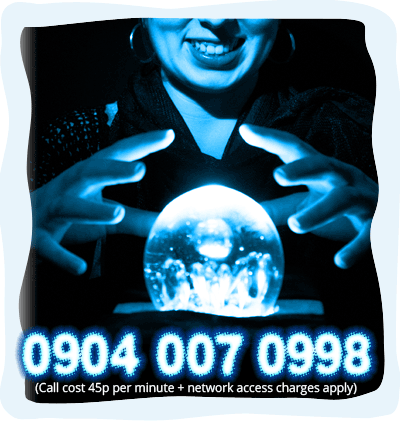 Our psychics readers are able to connect with your energies to give a pure insight into future and past events within your life often resolving previous unanswered issues that may had caused problems and unhappiness. Their aim of all our fortune telling psychics is to guide and improve your harmony and inner peace to ensure a brighter future for you and those most important to you.
Our fortune telling readers are truly passionate about their skills and are genuinely kind and caring individuals who are totally non judgmental being just an instrument to pass on advice and resolve your problems with as much information that is passed to them and that they can relay to you through a full and enlightening reading which should leave you with a feeling of well being. Please do call our fortune telling team today and receive the very best fortune telling live phone advice experience.
Cheap 45p Call 0904 007 0998
Extensive Fortune Telling Life Readings
(Call cost 45p per minute plus network access charges apply)
5 Star UK Psychic Text Answer Service
Text Your Question To An Expert Reader Below : Receive Indepth Answers
Peter
Psychic Clairvoyant
07441 910 383
London
I am a Clairvoyant Psychic. I am available to offer you insight into your present, past and future with a gift that has been mine since a very young age.
Ruth
Psychic Tarot
07441 910 197
North
I am a gifted and natural tarot and psychic reader with over 10 years worth of experience, reading professionally for people from all over the world.