Cheap 45p Advice 0904 007 0998
See your future predictions
(Call cost 45p per minute plus network access charges apply)
Cheapest Best UK Psychic Predictions For The Year Ahead
Psychic Predictions readings from our dedicated psychic caring team. The number one thing everyone must do on this earth is look after themselves both physically and spiritually, we can help you with the spiritual side of your life.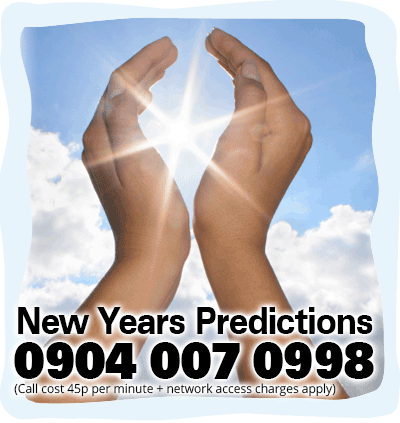 Let us see your future psychic predictions, we can tell you things that may happen weeks or months before they do giving you the time to react now and make any necessary changes today. Our psychic predictions readings are clear and transparent allowing you to be happy with the information that you are receiving. Sometimes our future predictions can be the most complicated of all readings for our readers because the future can show all different types of events and the readers job is to set them in chronological order so they make sense to you. Our Psychics and Mediums want to help you today, their gift is amazing and through the law of the universe they want to share with you the information they see and hear with your permission. So if you would like to see and hear your personal Psychic Predictions today then please call us and we will be most willing to help you.
Cheap 45p Call 0904 007 0998
Psychic Predictions – The Year Ahead
(Call cost 45p per minute plus network access charges apply)
5 Star UK Psychic Text Answer Service
Text Your Question To An Expert Reader Below : Receive Indepth Answers
Ruth
Psychic Tarot
07441 910 197
North
I am a gifted and natural tarot and psychic reader with over 10 years worth of experience, reading professionally for people from all over the world.
Peter
Psychic Clairvoyant
07441 910 383
London
I am a Clairvoyant Psychic. I am available to offer you insight into your present, past and future with a gift that has been mine since a very young age.